Northam signs new environmental laws in Virginia Beach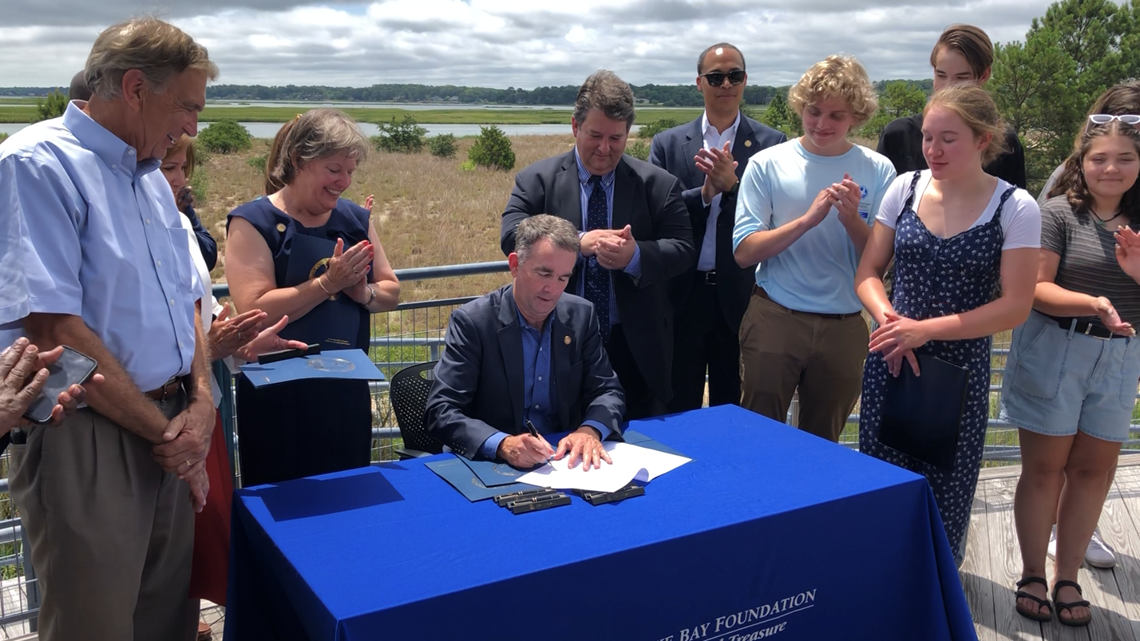 A ban on the release of plastic balloons and additional regulation of discharges from sewage treatment plants were among the bills that Governor Ralph Northam passed.
VIRGINIA BEACH, Virginia – Virginia Governor Ralph Northam signed five environmental and conservation bills on Friday in a ceremony at the Brock Environmental Center.
The new laws include a ban on dropping non-biodegradable balloons due to their plastic waste and the threat to marine animals.
Northam and other leaders also celebrated a bill to more strictly regulate sewage treatment facilities, protecting the Chesapeake Bay from nitrogen and other discharges.
Another bill provides financial assistance to low-income homeowners to repair or install septic systems and other wastewater needs.
Claire Conner, a 10th grade student at Hickory High School, praised the bills for their environmental benefits.
"By reducing pollution from wastewater treatment plants, more fish, crabs and birds will thrive along the banks of Virginia's rivers. Families will be able to repair septic tanks, which will make community waterways cleaner, "said Conner. "Signing these bills is a step in our race to tackle the plastic pollution plaguing our bay, but it's important to remember that it's a long journey. We have a lot more work ahead of us to restore prosperity to our watershed and our state. "
At the ceremony, Virginia's First Lady Pam Northam said the new laws will protect critical ecosystems.
The governor declared that "it takes a village to be the guardian of our environment and our natural resources".
Of the. Nancy Guy praised her bill that bans the release of non-biodegradable balloons outside, referring to research that shows how balloons can be lethal to marine animals and how often they cause blackouts current.
"Balloons are beautiful and they're fun but they're also pernicious," Guy said.